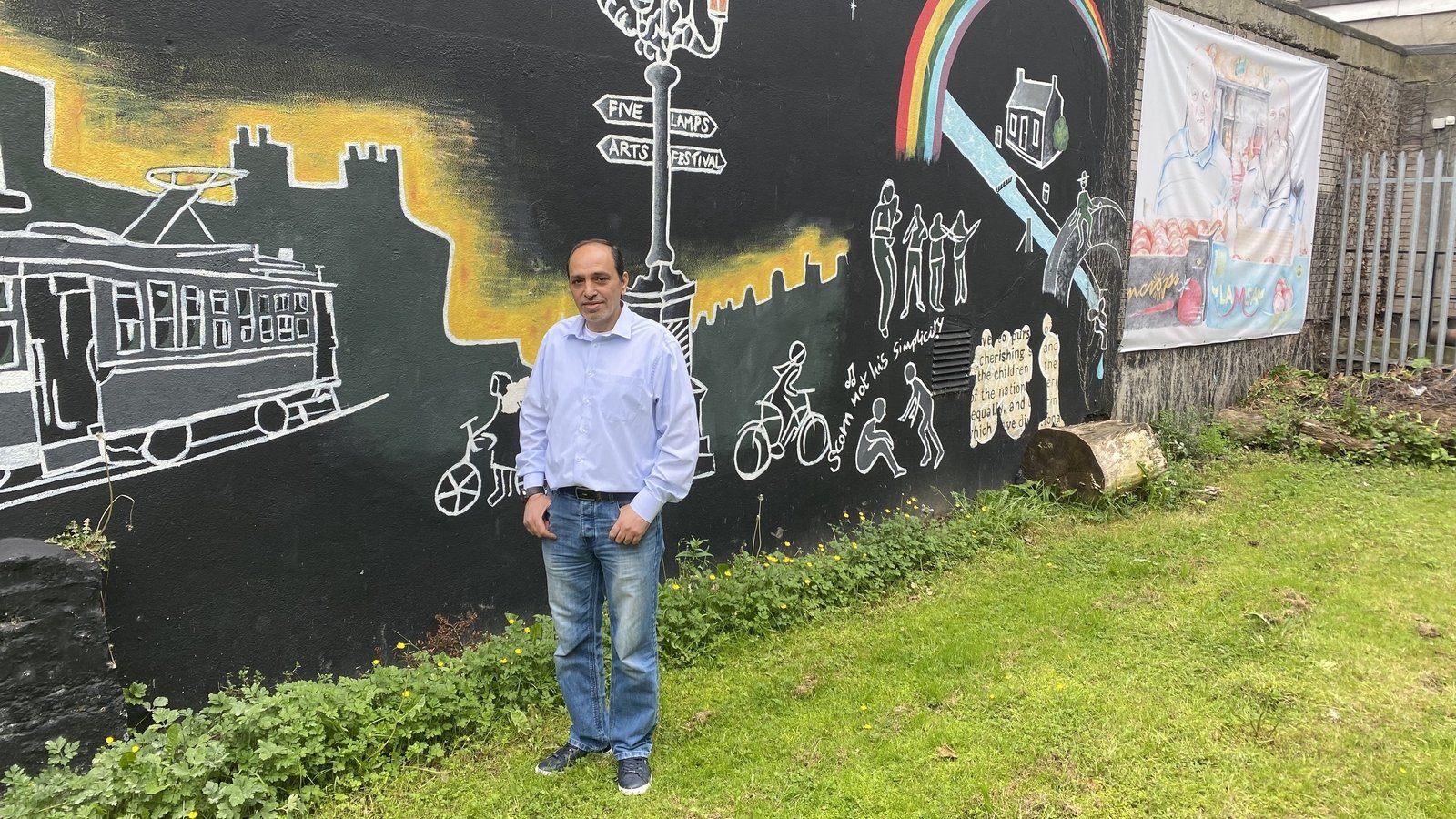 Asylum seekers in limbo over application delays
"Before the war started in Syria, I had established my life, I had my own house, my own car, my own business, but unfortunately when the war started, I lost my whole life."
This is the story of Hussam.
Sitting in the garden next to Marino College on Dublin's North Strand, Hassan recounts his life in Syria, his trip to Ireland and the financial and personal costs he endured to get there.
We don't use his last name to protect those he left behind.
"We are more afraid of the checkpoints than of the bomb itself, because in the bomb you will die, but at the checkpoint, if they catch you, even for some reason, even if you do nothing, you will wish to die," Hussam said.
We chose this garden because it was close to the offices of the Irish Refugee Council, where Hussam had come for a meeting.
As we talk about the war-torn country he left behind, we are both struck by the poignancy of our setting.
The mural behind us depicts the GPO on fire in 1916. Irish emigration is also depicted in the colorful painting. A few yards from where we are sitting there is a plaque commemorating the bombing of North Strand by German planes during WWII.
Before arriving in Ireland, Hussam said he had heard of the country's 'story of freedom' and believed people here would 'understand the meaning of war, they will understand the meaning of living in this situation".
He has spent the past six months in emergency accommodation at a hotel in an industrial area on the outskirts of Dublin.
Delays in administering his initial application left him without access to many basic supports normally available to asylum seekers, including the weekly payment of €38.80.
He described that there were no parks nearby and no stores beyond those at nearby gas stations.
When I asked him if he had money to take the bus, he shook his head and said "no". Transportation has been arranged for him to attend this meeting.
He is full of praise for the "friendly staff and management" of the hotel, where he receives three meals a day, but he said: "I didn't come here to sleep and eat".
We need your consent to load this content rte-playerWe use rte-player to manage additional content which may place cookies on your device and collect data about your activity. Please check their details and accept them to load the content.Manage preferences
To make the most of his days, Hussam learned to speak English using "YouTube videos and a few online courses".
"I don't want to waste any more time, I want to start working, I want to start studying, I want to start being of service to Ireland," he said.
Hussam is one of hundreds of asylum seekers who have experienced delays in registering their application for international protection.
Treatment delays
Delays have centered on applicants reporting to the Mount Street International Protection office in Dublin for an introductory interview and obtaining a Temporary Residence Certificate (TRC), colloquially known as a Blue Card, and a form IPF1, whose candidates must apply for a Personal Public Service Number (PPS).
Without a PPS number, claimants cannot access supports normally available to asylum seekers, including weekly payment and a medical card.
A PPS number is also required to enter the labor market for those who have been in the system for six months or more.
You also need it to get into formal education, although anecdotally there seems to be a workaround in place to make school places easier for affected primary and secondary school children.
Hussam waited four months to obtain his Temporary Residence Certificate (TRC). Two months later, he received his IPF1 form this week.
However, he said he discovered an error that needed to be changed before he could use it. As a result, his PPS number remains out of reach.
Irish Refugee Council CEO Nick Henderson told RTÉ News that the delays mean that "people are languishing across Dublin in particular, but also in other cities, not having access to the help when they need it."
"It really stands in contrast to all the good work the state has done for Ukrainians, being able to produce PPS numbers at the airport at very short notice," Henderson added.
"It is very concerning that we have these two different types of processing and if we can do that for a group of people then surely we must be able to do what is in fact a fairly basic administrative function for all the people who seek refuge in Ireland."
The Department of Justice said that "the number of people applying for international protection has increased significantly with 3,354 applications lodged at the end of April 2022".
"Things are looking up"
He said this represents a "129% increase compared to the same period in 2019, the last year in which the number of applications was not impacted by Covid-19".
"This unfortunately impacted the IPO's ability to complete an application and issue same day TRC cards to applicants."
However, he said "practical efficiencies … to improve the process" were put in place and things were improving.
Mr Henderson said that 'or new applicants, the process has sped up, adding that 'you can get your Temporary Resident Certificate (TRC) issued quite quickly', but there were still issues 'for people who have had difficulties in recent months, which are late in the system."
In April, Department of Justice figures showed that 1,200 people had to return to the IPO to complete their application.
This week, that figure was 238.
The Justice Department said 68 appointments had been scheduled this week and appointments would be offered to waiting applicants "within two weeks."
As for those waiting for an IPF1 form, the department said "the majority of applicants who did not receive an IPF1 on the day they received their TRC have now received their IPF1 form."
"When the IPO did not have an address for a small number of applicants, approximately 40, the IPF1s were forwarded to the International Protection Accommodation Service (IPAS) for onward transmission to these applicants," he said. he declares.
And he advised any applicant awaiting receipt of an IPF1 to contact the IPO as soon as possible.
We need your consent to load this content rte-playerWe use rte-player to manage additional content which may place cookies on your device and collect data about your activity. Please check their details and accept them to load the content.Manage preferences
Another asylum seeker, Daniel (pseudonym) told RTÉ News that even that was not an easy thing to do.
He said he had been in Ireland since November last year and he says he still hasn't gotten his IPF1 form.
"I haven't received this document since I did my (preliminary) interview, it's been a while now…Even yesterday I was at the IPO trying to get a walk- in, but they turned me down," Daniel said.
Co-founder of the Asylum Seekers Movement in Ireland, Lucky Khambule, said he heard many international protection seekers share similar experiences.
"They are told 'we are busy, there are so many people making the requests', sometimes they are told the machines are down, all of that is frustrating for people," Mr Khambule said.
"I was in a meeting last night and I just asked a quick question, how many people are here waiting for their justice cards (TRCs)? How many for the PPS (numbers)? And there was a large number of people – especially for the PPS – pending the PPS, so the problem is still there. It needs to be expedited further," Mr. Khambule said.
Once an IPF1 form is submitted, the provision of PPS numbers is the responsibility of the Department of Social Protection.
The department said the process of issuing PPS numbers to applicants for international protection "can take up to three weeks when the application is fully completed and all required supporting documentation is provided."
RTÉ News understands that earlier this year a pilot project aimed at speeding up this process was abandoned.
However, the department said a "pilot program is currently being developed in conjunction with the Office of International Protection, to expedite PPS number applications from applicants for international protection."