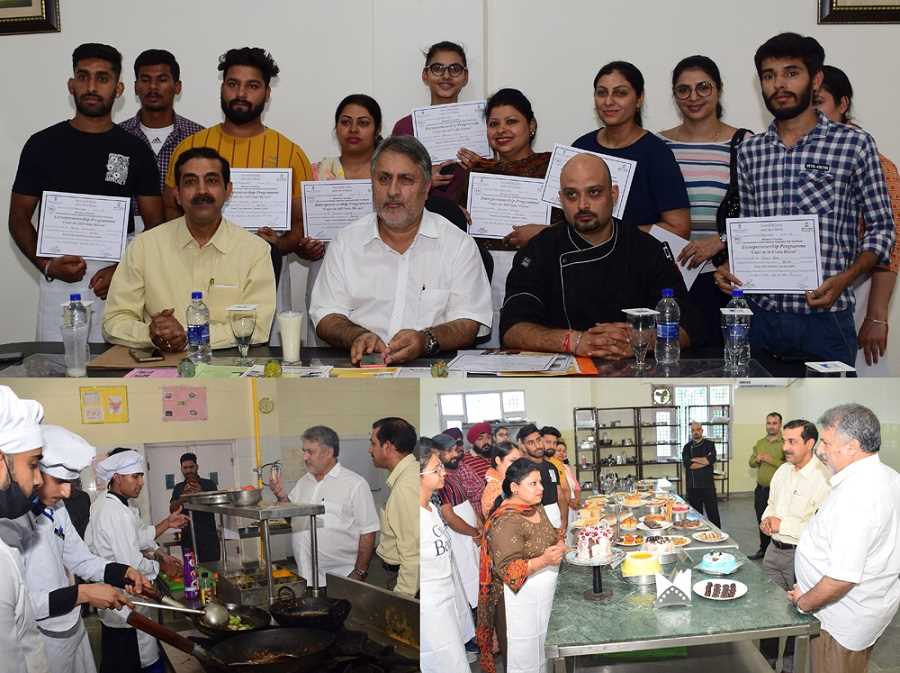 Dr Samoon visits the Food Craft Institute, Jammu; Inaugurates FCI Online Admissions Portal
The Principal Secretary of the Skills Development Department, Dr. Asgar Hassan Samoon visited the Food Craft Institute, Jammu today.
On the occasion, Dr. Samoon inaugurated the institute's online admission portal where students can register online with the institute besides generating an electronic certificate upon completion of the course. This is a big step towards providing better facilities to citizens for the ease of doing business in the Citizens Charter. He also inspected the works being performed in the institute.
The Principal Secretary also distributed certificates to trainee students of the month-long skill development programs, trained in the field of baking and pastry.
The Principal Secretary suggested that the young people use their valuable time in complementary courses to improve their skills themselves in line with industry requirements. He ordered relevant officers to promote various government loan programs for unemployed youths to set up their own business unit.
While interacting with the interns, Dr. Samoon appreciated the efforts of the Principal FCI and other faculty members of the institute to impart quality skills to the interns.
The director informed that the institute has signed a memorandum of understanding with the Directorate of Industries and Commerce under which each trainee coming out of the entrepreneurship program (one month) is facilitated in early registration and commissioning of its units in order to become entrepreneurs. This not only enables them to earn a living, but also makes them providers of jobs, he added.
He explained that the institute runs one and a half year courses in various hospitality management trades in addition to short term skills development programs ranging from one month to four months to create employment opportunities for young unemployed people.
At the same time, in order to encourage students to drop out of the one-and-a-half-year diploma courses in food-processing professions, the final preparations were presented in the form of a variety of dishes. Most of the trainees have already been shortlisted for six months of industry training at various 5-star properties and chain properties across the country.
Later, the principal secretary also visited the Jaggti Nagrota migrant camp and inquired about the facilities provided by the skills development department for young migrants.